2 min read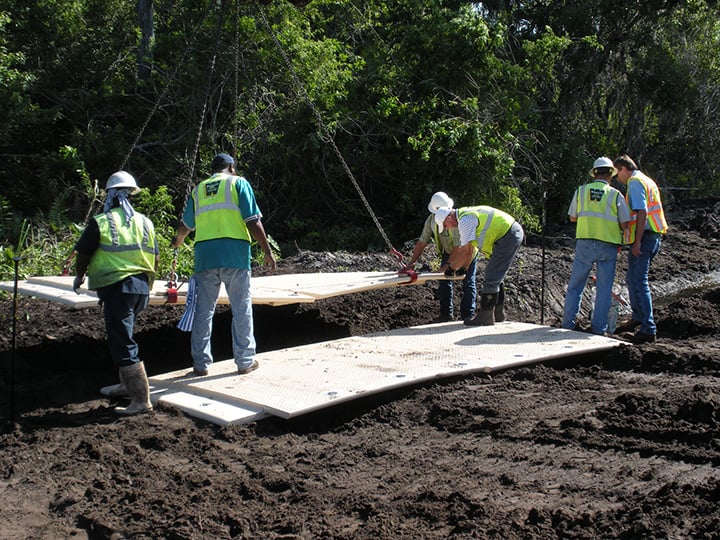 Construction mats make accessing remote job sites quicker and easier and are essential to helping protect your employees and equipment over unstable ground conditions. There is a lot to consider when picking the right temporary site access mat for your project, including whether to choose composite or wood. Composite mats are a sustainable solution that offer many additional benefits including safer work zones, reduced costs, a longer lifespan, and minimal environmental impact, making them an ideal choice over wood mats in a wide variety of applications.
1. Composite Mats Create Stable Work Zones
Signature's MegaDeck® HD+ composite mats feature heavy-duty overlapping flanges, which stay securely connected in place with a vibration-resistant lock system, preventing drifting or separation, and their High-Density Polyethylene construction provides tremendous strength. Combined, these features create a safer work zone that can keep equipment from shifting unexpectedly due to unstable ground conditions.
2. Composite Mats Can Help Reduce Shipping & Project Costs
When compared to 3-ply bolted mats, you can twice as many MegaDeck HD+ composite mats on trucks, helping you save significantly on shipping costs. Additionally, composite mats accelerate site access allowing you to start jobs sooner, handle weather delays, and finish on-time, helping reduce your project costs.
3. Composite Mats Have a Minimal Environmental Impact
Signature's composite construction mats eliminate cross-contamination between worksites and the possible transmission of parasites, chemicals, oils, mold, and insects. Mats will not rot or degrade, which allows for long-term installations with minimal environmental impact. At the end of each use, they can be easily cleaned with soap and water.
4. Composite Mats Ensure Speedy Site Remediation
Signature's composite mats can bear a weight load many times that of wood and won't splinter under intense pressure, leaving behind bits of debris that will pollute sensitive environments. Mats are made from a non-toxic material that protects vegetation and will control soil compaction, preventing time consuming, costly clean-up efforts.
5. Composite Mats Are a Sustainable Solution with a Longer Lifespan
Unlike wood mats, Signature's composite mats help limit deforestation and conserve one of the Earth's most precious resources. Composite construction mats can be used on countless projects for 10+ years and at the end of their life can be downcycled to create new products. Timber mats only last between 3-5 years and are often burned at their end of life, releasing CO2 into the atmosphere.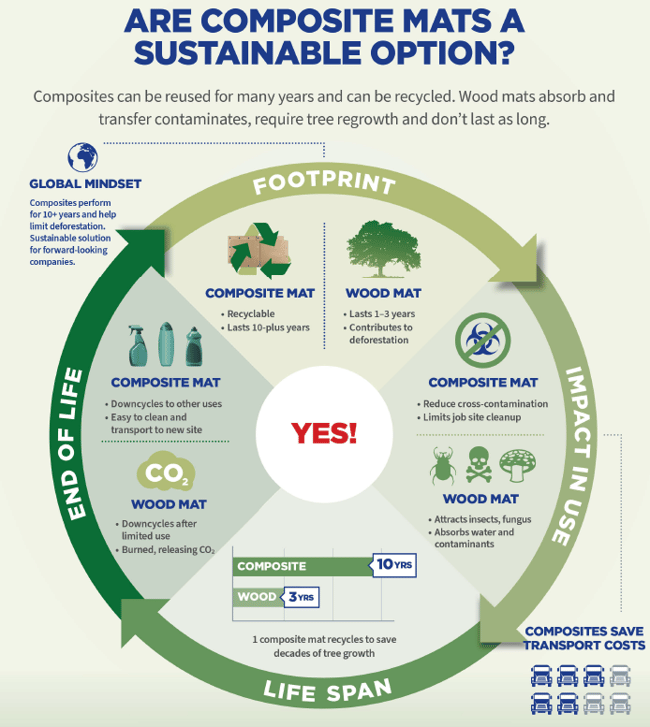 Conclusion
Composite mats offer many advantages over wood mats, including being engineered specifically for protecting people, property, and the environment. Once you've decided to use composite mats, consider how they will be used for your application. Signature Systems has heavy-duty, medium-duty, and light-duty options to meet the demands of a wide range of job sites. To learn more about the benefits of MegaDeck® HD, SignaRoad®, and DuraDeck®, contact one of our experts.