KEEP PEOPLE & PROPERTY SAFE IN EXTREME CONDITIONS
Signature Systems manufactures a variety of matting products engineered to meet the rigorous demands of military applications and specifications. Our modular flooring and temporary roadway systems can handle nearly any environmental condition and are designed for fast deployment.
MegaDeck® HD+, SignaRoad®, DuraDeck® and HexaDeck® mats offer superior strength, performance and longevity to protect your people and property in the most challenging conditions.
OmniDeck® and EventDeck® Ultra provide safe and clean surfaces for tent flooring, temporary hospitals, common office, dining or shower areas, roadways and pedestrian walkways.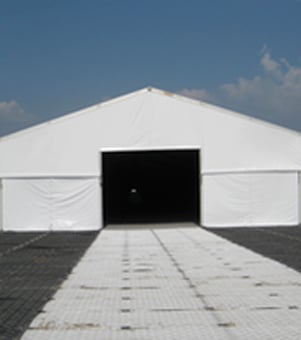 MATTING SOLUTIONS FOR GOVERNMENT & RELIEF
Trust Signature's portable roadways, shelter flooring and ground covering systems to help keep your personnel safe and your equipment in top condition.