INDUSTRY-LEADING STADIUM AND MAJOR VENUE GROUND AND TURF PROTECTION
Keep your playing surfaces and fans safe during special events like concerts, commencements and festivals. Choose the strongest and easiest to install turf and ground protection system in the world; learn more about our variety of stadium solutions.
Our innovative ground and turf protection system, OmniDeck™, handles substantial weight loads while protecting the integrity of natural grass, synthetic or hybrid surfaces.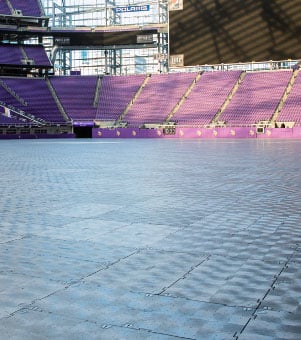 STADIUM AND MAJOR GAMES GROUND PROTECTION

Choose from a variety of our industry-leading stadium products including OmniDeck™ HD, OmniDeck™ LD, DuraDeck®, EventDeck® Ultra and more to meet your specific needs.