4 min read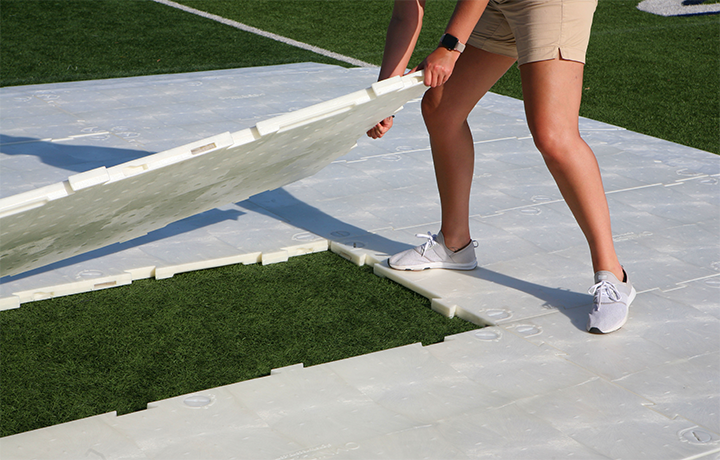 When it comes to creativity, the events industry is used to being put to the test. Last year, when in-person events were not possible, event professionals quickly adapted, designing fun and engaging virtual events attendees could experience from the comfort of their own homes.
As COVID restrictions begin lifting, there is a lot of anticipation and excitement around attending events in-person again. However, strict budgets, requirements for both safety and style, changing liability and security rules, and a demand for quick turnarounds might have you wondering if your venue is ready to keep up.
WHY USE OMNIDECK® PORTABLE EVENT FLOORING FOR OUTDOOR EVENTS?
Signature Systems offers industry-leading ground protection that can quickly transform your outdoor space into a multi-purpose venue for weddings, concerts, commencements, and other special events while helping to keep your guests safe and your venue profitable. Signature's lines of OmniDeck® HD and OmniDeck® LD portable event flooring can be used to create:
Temporary flooring for events
Ground protection
Tent flooring
Stadium turf protection
Accessways for vehicles
Staging areas for equipment
Safe, aesthetically pleasing flooring for fans/guests
1. Portable event flooring solutions can help you prepare for the surge of outdoor events
Less restrictions, vaccine availability, and stimulus checks have many ready to purchase tickets for outdoor events right now. With fast installation and dismantle times, Signature's OmniDeck portable event flooring can quickly transform your grass to event venue and back to grass again at a moment's notice.
2. Omnideck portable flooring is an attractive temporary event flooring solution
No matter the event, the design sets the mood for the entire experience. OmniDeck panels can be arranged in a parquet pattern for a stable, durable, and stylish outdoor event flooring, perfect for casual and luxurious events alike.
3. Temporary flooring for events can increase your venue's capacity and has many uses
Now's the time to start recovering from last year's losses. Signature's ground protection can increase your venue's profitability by extending your event space to the outdoors, allowing you to increase your capacities or host multiple events at the same time, including weddings, commencements, and trade shows, just to name a few.
Managing foot, vehicle, and construction traffic, setting up staging areas, and ensuring you have enough space for vendors can be overwhelming. Signature's portable flooring is an all-in-one solution that can create temporary event flooring, accessways for vehicles, temporary parking lots, staging areas, and stable surfaces for sound equipment, concession stands, and portable restrooms.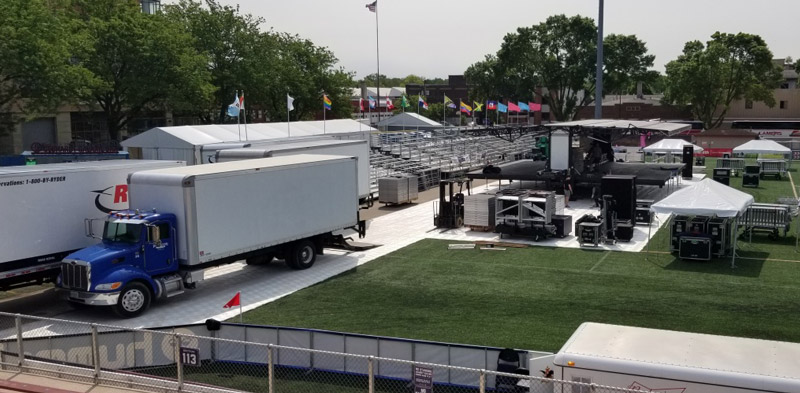 4. Omnideck Portable Event flooring Is designed To Protect Your Turf
Protecting the event grounds during an outdoor event can prevent you from incurring expensive repair costs. Signature's OmniDeck ground protection is durable enough to withstand substantial weight loads while protecting the integrity of a natural grass, synthetic, or hybrid turf.
5. Omnideck Portable flooring encourages Social Distancing
Don't let the time it takes you to measure safe social distances slow you down. Signature's OmniDeck measures 6 ft L x 3 ft W, making marking off 6 ft of safe space quick and easy – no tape measure necessary!
6. Fast Deploying Panels Save Time and Reduce Labor Costs
Stop letting labor costs eat up your profits. Because OmniDeck panels are lightweight with fast, omnidirectional installation, they reduce labor and training costs, which means more revenue-producing events with quicker turnaround times. Its innovative "puzzle-piece" design can easily be installed in north, south, east, and west directions simultaneously. Our panels are the perfect solution for nonstandard spaces and can be installed around fixed objects. OmniDeck panels are also efficient to transport, easy to store, and can be used for ground protection.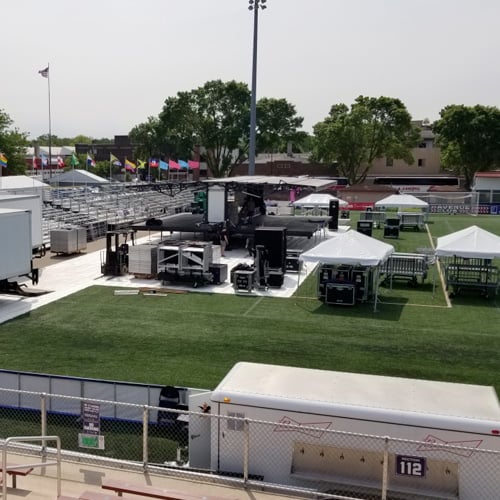 7. OmniDeck portable flooring protects guests and ensures safe events
Designing a safe event that everyone can enjoy is a top priority for every event professional. OmniDeck temporary outdoor flooring eliminates trip hazards, is stable and secure, and hides electrical cords and wires. It also has a top surface tread for traction. Optional ADA compliant ramps can be installed on any side, making event access easy for all.
8. Portable Event Flooring systems Are Reusable for Many Years
Equipment rental costs can quickly add up and end up hurting your bottom line. By purchasing a long-lasting, versatile event flooring system, you can eliminate flooring rental fees in addition to increasing the flexibility to instantly flip your venue without waiting for an outside vendor. OmniDeck can be used on countless events for up to 10 years, and quickly pays for itself providing a significant return on your investment.
How can I prepare my venue for the return of outdoor events?
With fast-installing temporary event flooring that provides a safe, stable surface you can be prepared to host many outdoor events this season. Contact our events team for expert guidance on portable event flooring. We follow the latest trends and have decades of industry expertise navigating tight deadlines and budgets.
U.S. 800.931.7301 | +1 972.684.5736
U.K Freephone: 0800 678 5893
U.K. Direct +44 1642 744990