3 min read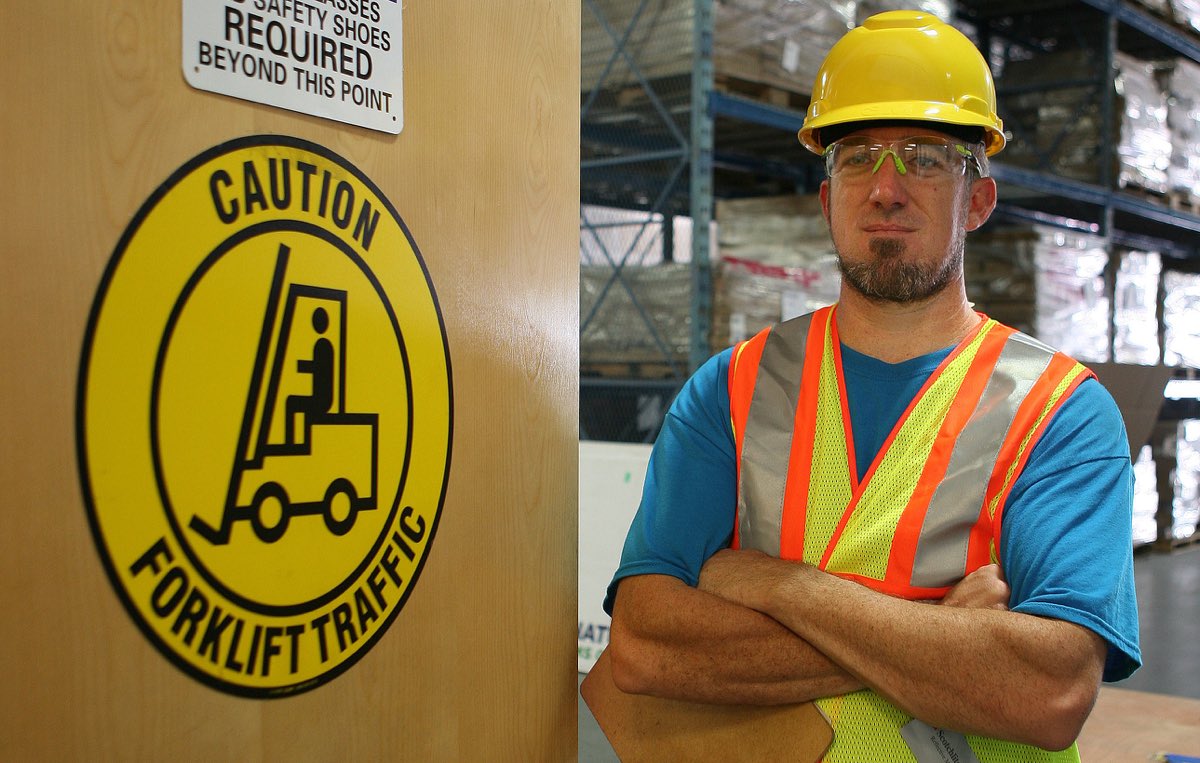 Are you warehouse aware? Matthew Joyce, Signature Systems' Warehouse Supervisor, shares his top five tips on safety. Safety awareness is especially important in a dual office and warehouse environment like Signature's Flower Mound, Texas, headquarters.
"A warehouse is a dangerous area, and that's why safety is the top priority," Joyce says. "We have an in-depth safety program at Signature Systems and we follow it closely at all our locations."
1. Wear protective equipment
The most dangerous (and common) perception in a warehouse environment is that it won't happen to you. It's particularly challenging in a dual environment where someone from the office "just needs a minute" in the warehouse. The intention may be to have a quick conversation or to check on an order, yet visitors should not get complacent about wearing personal protective equipment (PPE).
Gloves, protective shoes and safety glasses or goggles are there to protect you. Of course, no one expects an accident; that's why safety guidelines exist.
At our warehouse, yellow and black striping indicates where protective gear is required. Guests also need to be escorted by a warehouse employee beyond these points.
2. Be observant
Always be aware of what's going on in your vicinity. Know where the forklifts are operating and what direction they're going (between locations in the warehouse or to the loading dock). Pause to assess the activity before you choose a path through the space.
Many times, storage bays go all the way through, and people don't realize that overlength material — like 12-foot carpets —can bump smaller items located on the opposite side of the shelving. So even when the activity is on another aisle, visitors still need to pay close attention.
3. Know the area you're visiting
It's every employee's responsibility to know where safety equipment and stations are located and how to use them. If you work in a dual environment, it's OK to ask for information and seek resources and help. Don't wait for training on safety measures to be offered. Seek it out.
Our warehouse is equipped with multiple fire extinguishers, an emergency eyewash station, trauma bags, hazardous material kits and a defibrillator. Weekly safety training is in place in the warehouse, but the big push is to get others trained who aren't as familiar with the risks or who may not know how to use the emergency stations.
4. Stay up-to-date on forklift training
Forklift accidents are the No. 1 killer in a warehouse. Forklifts are heavier in the rear to enable front loading, which can make them difficult to handle and block the driver's view. They can weigh up to 9,000 lbs., are often used to raise heavy material to high storage areas and are also susceptible to tipping.
Regular training and on-site certification help forklift drivers keep risks top of mind. It's also necessary to perform daily forklift mechanical checks.
As a precaution, managers should wait until loading is complete to sign freight drivers' paperwork. It is critical for drivers to stay in position at the dock while the forklift is still in operation. Common accidents include forklifts driving off the dock when trailers pull away from the loading area.
5. Understand ergonomics and emphasize cleanliness
Know what's a single-person lift vs. a two-person lift and the proper lifting techniques. Understand what's in the material you're about to lift and know what's around or ahead of you, especially if what you're carrying may obstruct your view.
Finally, if there's nothing to do, grab a broom. Keep all areas clear of debris to help prevent slips and falls. In Flower Mound, we have a dry sweep, hazardous materials bins and bags.
Safety is in everything you do out in a warehouse.
Matthew Joyce has 14-plus years of warehouse management experience plus years of safety, emergency and hazardous materials training in the United States Marine Corps.