3 min read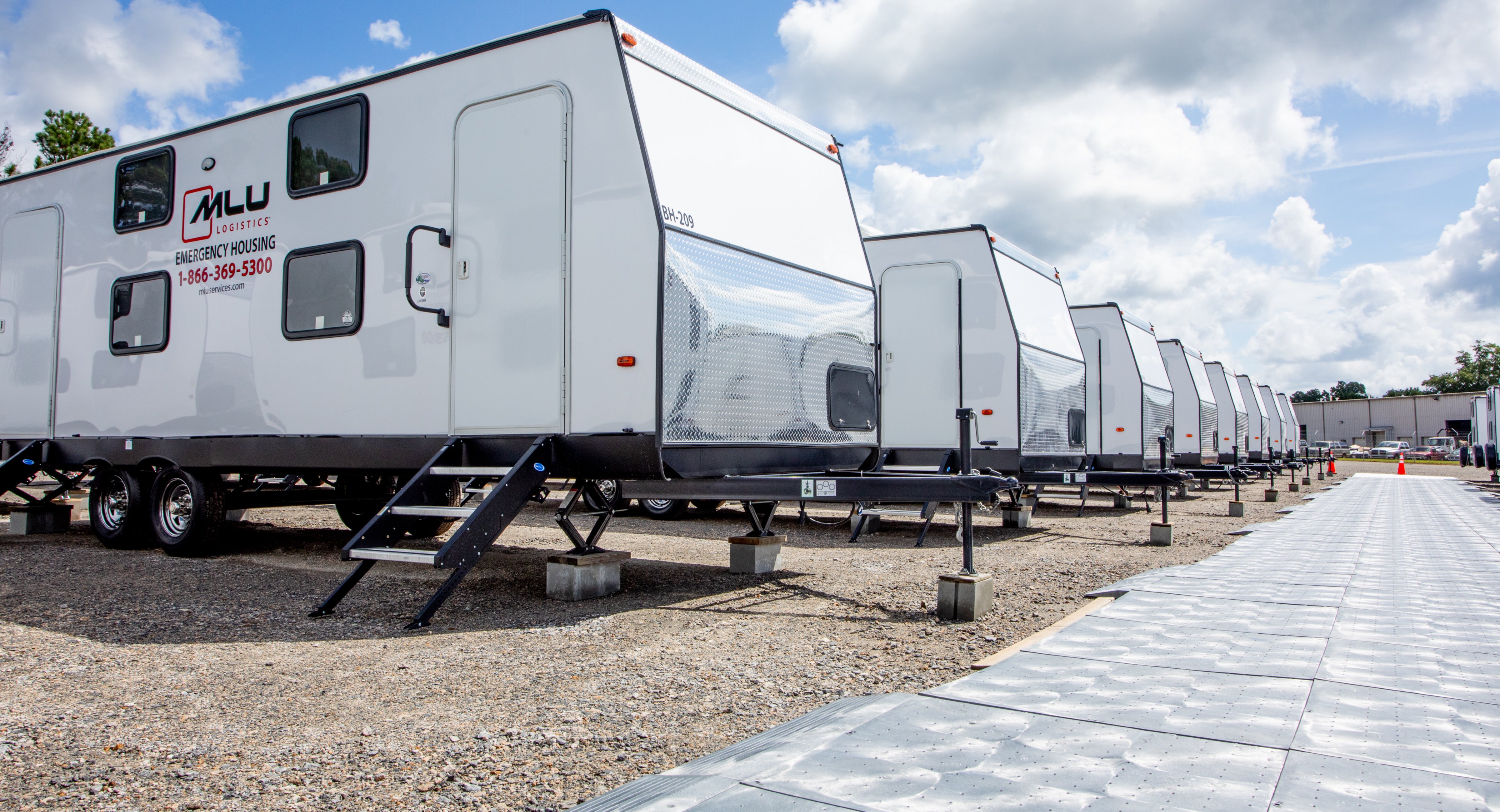 When disaster hits — a hurricane, tornado, wildfire or equally dramatic crisis — first responders must get to the disaster site quickly to start the important work of saving lives and protecting property. That's why MLU Services' immediate disaster response capabilities are so important.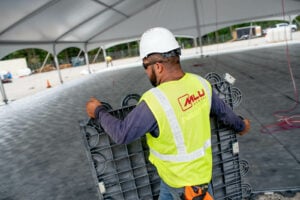 With an unpredictable hurricane season still in play and western wildfire threats cranking up, Signature is proud to celebrate MLU Services' superior emergency workforce support efforts on #GetToKnowYourCustomersDay.
#GettoKnowYourCustomersDay
MLU Services provides base camp operations for crews of first responders or any organization with urgent needs to house a sizable workforce quickly. The camps consist of custom 12-person sleeper trailers featuring the MLU TruComfort Sleep System, management trailers and climate-controlled showers, restrooms and laundry facilities. Signature Systems' ArmorDeck® flooring is used throughout the MLU base camp to provide safe and sanitary surfaces for MLU Services' first aid, recreation area and centralized dining hall which includes a full-service kitchen serving nutritious meals to hundreds of workforce personnel.
Mike Daughtry, manager of base camp operations and events for MLU Services, says they serve a variety of clients from private utilities to state emergency management agencies.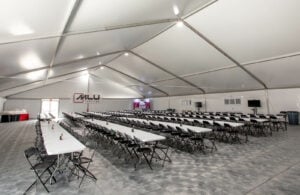 If a recent hurricane was fierce enough to have a name — Dorian, Florence, Harvey, Katrina, Michael and Rita among them — MLU Services was on site within hours of notification to set up base camp operations so first responders could get to their life-saving work without any added stress. MLU believes that great nutrition and restful sleep are the building blocks of safe operations for teams of utility and disaster personnel who work hard to restore normalcy after a natural disaster.
The photo on the right is an MLU Services base camp dining tent.
MLU Services in Action
"In most cases we have to be operational within 24 to 48 hours," Daughtry says. "We've got a complete transportation logistics operation with drivers on call who respond quickly, safely and efficiently to move equipment and operations wherever needed."
Watch this short video to see how Signature's ArmorDeck® ground protection flooring goes down quickly and easily to establish safe, stable and clean flooring for the common areas dining and kitchen tent.
MLU Services offers "the essentials" for disaster recovery workforce but it's really much more than that. The company's core values of integrity, safety and quality are all clear in this recent video tour of their Base Camp showcase demonstration in Bogart, Georgia.
Daughtry says that what's most rewarding about his job is "the speed of being able to take what is an open field and turn it into operations delivering comfortable accommodations for the supporting workforce and the ability to feed and sleep them well, in a very quick turnaround. Restful sleep and nutrition for emergency and disaster cleanup workforce are a big part of our primary mission, and that turns into customer satisfaction."
Videos and photos by Thrasher Photo and Design