3 min read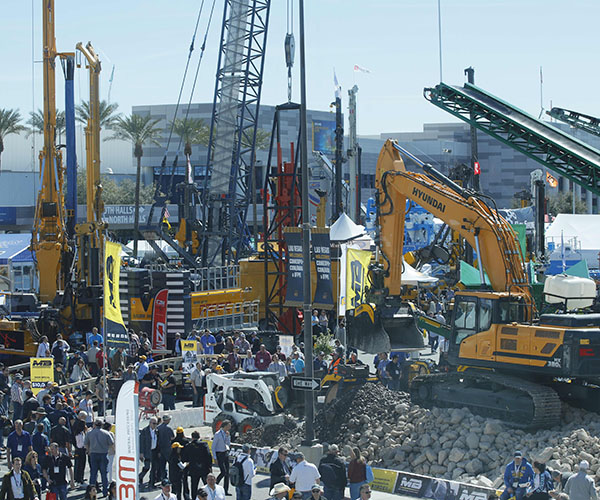 If this is your first year to attend CONEXPO-CON/AGG in Las Vegas, you might want to prepare yourself. Yes, the show website calls it North America's largest construction trade show, but you'll honestly have to see it to believe it.
Consider the massive scope — attendance, sheer expanse of exhibit space and size of equipment represented. You'll need to pace yourself — and do some pre-show planning — to take in the most relevant insights for you and your company.
More than 2,000 exhibitors demonstrating products in lifting, hauling, earthmoving, asphalt, aggregates, ground protection, access, safety gear, new technology and more.
140,000-plus attendees from all over the world.
More than 2.6 million square feet of exhibit space, including massive indoor and outdoor displays.
Go International
ConExpo is different from other shows in that it's a truly international show. It draws everyone who's anyone in construction equipment and services, but also the tertiary industries including oil & gas, power transmission & distribution, trenching & shoring, pipeline installation, heavy haul transportation and more.
According to the show fact sheet, CONEXPO-CON/AGG is recognized as a meeting destination for global construction and construction materials industries, and hundreds of industry gatherings, including annual conventions of industry associations, are held in conjunction with the show.
Finding Your Way
Regarding the previously noted scale and scope, you will get lost, but that's not necessarily a bad thing. You can walk for days and not see every booth, so take some time to explore indoor and outdoor locations and take notes on new trends that could affect your company or industry.
The best way to find your way to specific destinations or meeting places is to download the show app on iTunes or Google Play before you even leave for the show. You can add favorites to your app, and when you arrive, the app will give you directions to booths, attractions and general product groups from where you're standing. Search "CONEXPO-CON/AGG & IFPE" in the app store for free download.
Tech Experience
For a look at the latest trends in construction in modern mobility, sustainability and smart cities, take some time to visit the award-winning Tech Experience at Silver Lot 3 and the Festival Grounds.
Show sponsor AEM, the Association of Equipment Manufacturers, will demonstrate through a 10- by 22-foot Smart City Replica how sensors and analytics can transform information into digestible data so cities can work smarter.
"Our goal for the Tech Experience in 2020 is to show contractors how all of these exciting new technologies will impact their current work, how the expectations and demands of customers will change and how the current state of infrastructure may change," says Al Cevero, AEM senior vice president of construction, mining & utility.
If NASCAR is more your speed, catch NASCAR driver Tyler Reddick's Tech Talk, who, with his crew chief, will discuss the role that technology plays in NASCAR and how it has evolved over the years.
Watch the CONEXPO-CON/AGG 2020 Tech Experience: Smart Cities Preview video:
Interested in Composite Mats?
After many hours of looking up at all of those towering cranes, give your neck a break by stopping by Signature Systems' booth in the Central Hall. We're on the periphery of Central Hall C1-C2 at Booth #C22140. There will be plenty to look at underfoot — including our best-selling products MegaDeck® HD, SignaRoad® and DuraDeck® — that will make a huge difference for safety and stability on your next construction or industrial job site.
We'll be happy to share with you how composite mats will save you time and money and show you how our innovative engineering team incorporates customer feedback and real-world challenges into product design. What sets us apart is our team. For Signature Systems, it's all about the relationship, and a show like CONEXPO is where we've established and built lasting connections with many of our closest partners.
Come by to chat or compare show notes; we look forward to seeing you.
Jason Frew is Signature Systems' Vice President of Business Development and Signature's most veteran team member, starting in the company's New York City office in May 2007. He offers expert advice and decades of experience with all of Signature's industry-leading composite matting products including MegaDeck® HD, SignaRoad® and DuraDeck® .