2 min read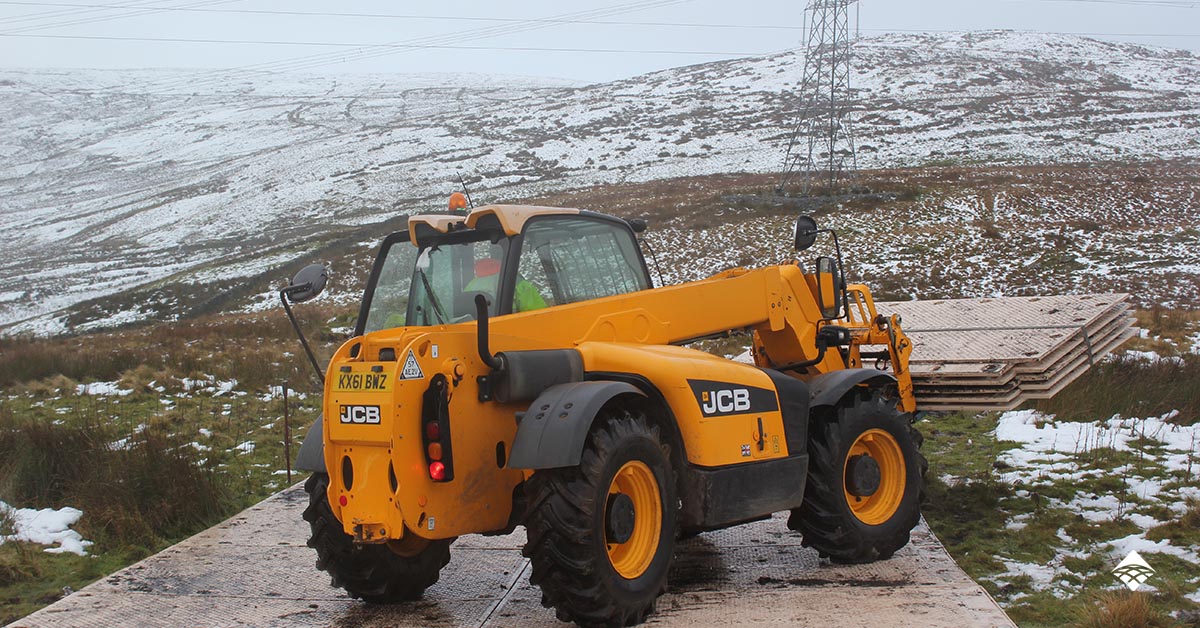 Both rugged and beautiful, Cumbria is England's most northwesterly (and wettest) county and is known for containing England's highest mountains, some of its largest lakes and nearly 300 Sites of Special Scientific Interest (SSIs) for unique biological and/or geological qualities. The mountains force the moisture-laden Atlantic air to rise and form clouds; in bad winters, some of the central valleys are occasionally cut off from the outside world.
This challenging project was with a utility client to replace transmission towers and short sections of overhead lines at multiple sites in a mountainous area in the middle of winter. The tower locations, approximately 1.86 miles (3 km) or more off a paved road, would be inaccessible to the large utility cranes and necessary transmission equipment and crews without a durable, flexible and stable ground protection solution.
"The working environment was particularly treacherous, with difficult weather conditions including snow and strong winds," a Spencer Environmental Care Associates manager on-site for the setup says. "SignaRoad composite mats worked really well with the traction surface. We find that given the right weather conditions and equipment we can work on some pretty steep gradient."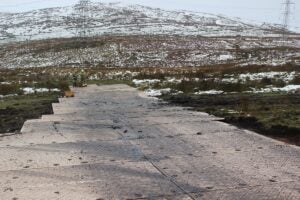 Customer Challenges
Site of Special Scientific Interest; environmental ground protection required
Middle of winter; extremely cold, wet weather, including snow and strong wind
Unstable moorland with very boggy, wet areas and rocky outcrops
Mountainous region with steep gradient and slopes to maneuver with heavy equipment
Slippery conditions; single layer mats only due to ground conditions
Needed to build access roads, lay-down areas, crane pads, etc.
Signature Solution: SignaRoad®
Strong protection for crews, equipment and the environment
SignaRoad® provided a stable, interconnected, strong yet flexible temporary road to support a utility transmission crane and other equipment on unstable, uneven and sloped surfaces.
The mats enable the crew to meet strict health and safety rules, including protection of a national Site of Special Scientific Interest.
Mats protected crew and equipment in extreme weather conditions with stable and secure roadway and platforms, with engineered traction for safety.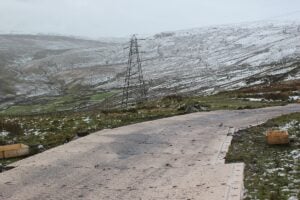 Flexibility in layout for roadways and accessways
SignaRoad® mats can be laid out in portrait or landscape configurations to create roadways from 6.6 feet (2 m) wide and wider if required.
Mats are laid out side by side in Cumbria for a roadway to support large utility equipment, including a crane.
Option to offset the mats on any connection offers variety of layout solutions. The offset was particularly useful for the Cumbria site, so large rock outcroppings could be avoided.
Fast and efficient to assemble, disassemble and clean for reuse from site to site.
Efficient solution for a small crew
The Spencer ECA team could efficiently install and uninstall trackway to lay-down areas and crane platforms with a small crew of four including two telehandlers and two crew locking the mats on the ground.
Durable yet lightweight mats require fewer lorry (truck) trips to the site than wood matting options, saving transportation costs and valuable time.
Spencer ECA uses a unique vacuum lifting system to move and place mats, especially useful for steep gradient and crew safety in challenging winter conditions.