1 min read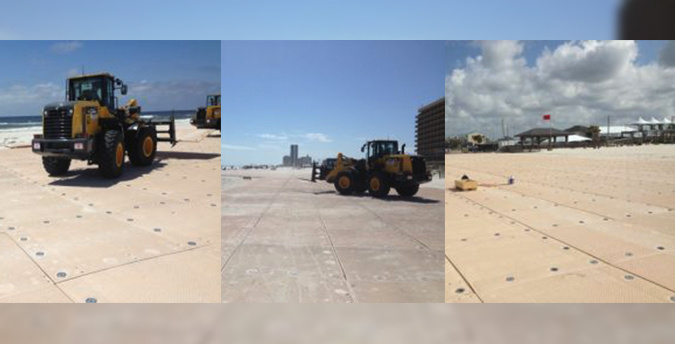 The Alabama Hangout Festival has been a big name in the ever-popular music festival scene since its first occurrence in 2010. Held right on the beach front of Gulf Shores, the Alabama Hangout Festival is a popular destination to kick off the summer for music enthusiasts and beach bums alike. The festival continues to grow every year and, as such, so has the need for bigger and better equipment. Larger amps, heavier stages, more and more attractions. It was posing a problem for the event coordinators, as the unstable, sandy shoreline proved hard to work on. Primarily in the transportation and installation of materials by heavy trucks and vehicles.
Due to the nature of the environment, some of the typical solutions proved unreliable. Wooden mats would rot and corrode in the humid, beach air, gravel would ruin the integrity of the beach, and any permanent road system was out of the question.So what could be used as a temporary roadway solution that could withstand the weights of construction vehicles and trucks loaded with staging equipment, be immune to the wet climate, and be removed with minimal impact on the beach? The answer: MegaDeck HD composite mats.
MegaDeck HD is the strongest composite matting available, and due to its HDPE (plastic) construction, wetness and moisture have no effects on the structural integrity of the mat. Better yet, when everything is in place, the mats can be lifted up and transported out to be used for another project anywhere else, with the beach looking no worse for wear. Maybe a little flat, but nothing a little raking can't handle. Now, the event staff has a strong, stable working platform to work on in preparation for the festival which starts at the end of this month. We hope for another fantastic hangout.